Edited November 2023
Winter is one of our favourite seasons. Those crisp winter walks, outerwear and of course, top of the agenda is entertaining. Christmas is just around the corner, in fact, it's only four weeks away. That means there isn't much time to get your home decorated and looking spectacular for those important get-togethers and holiday parties with family, friends and loved ones. If you aren't sure how to make it happen, leave the details to us as our curators have put together nine easy-to-follow tips to beautifully style your home for the upcoming Christmas season.
1. Make An Entrance
Image Credit: Chronological Gallery Wall Framed Art Set by Abstract House
Decluttering your entryway and making it more inviting is, of course, a given, but why not elevate your entrance hallway with a spectacular framed gallery wall. This striking framed gallery wall is certain to make an impression and make even the smallest hallways more cosy and inviting. Remember, first impressions count!
2. Host In Style With Mid Century Inspiration
Image Credit: Follow Me Down The Rabbit Hole Original Painting by Abstract House
If you'd love your guests to compliment you on your sense of style, choosing mid-century inspired pieces is a sure-fire hit when it comes to interiors. Mid-century designs craft areas for conversation, with lots of chairs for guests seated around coffee tables. And, what better way to spark conversation than with a beautiful one-of-a-kind masterpiece like the large abstract painting pictured by Omar Obaid.
3. Create A Focal Point
Image Credit: Bound By Time Original Painting by Abstract House
Accessorising spaces with sideboards and art can create a new focal point for an otherwise blank space, filling it with colour, light and depth. By adding a statement painting like the one-of-a-kind original painting shown, you can redefine a space and invite new memories and festive traditions with your guests.
4. Add Warmth Around Your Fireplace
Image Credit: Landscape Study I Frames Canvas by Abstract House
Sprucing up your fireplace and adding bespoke cabinetry for storage, as well as a striking large abstract landscape artwork will breathe new life into your space.
5. Dress The Dinner Stage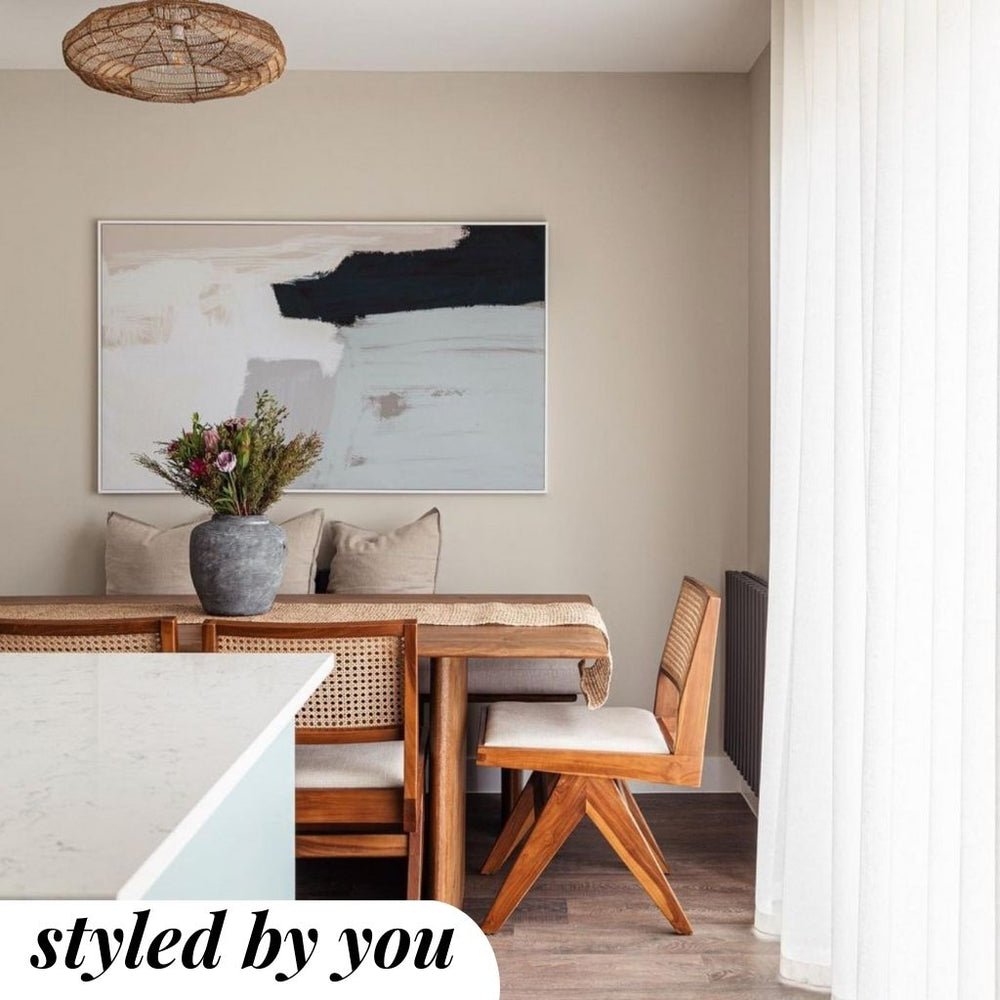 Image Credit: Untitled I Framed Canvas by Abstract House
Taking time to consider your colour palette and dress your dinner table with complimentary sustainable dinnerware, fresh flowers and of course, set the stage with a beautiful large abstract artwork can make all the difference. How striking is this handcrafted neutral canvas in this muted down kitchen diner?
6. Tidy And Declutter Your Kitchen
Image Credit: Abstract Blue Ocean Framed Art by Abstract House
Nothing beats an immaculate and clutter-free kitchen. Add warmth and coastal vibes with a beautiful large abstract artwork such as 'Abstract Blue Ocean' from our collection.
7. Display Your Mementos In Style
Image Credit: Solid Wood Glass Picture Frames by Abstract House.
Give your home the photo wall look and reimagine your favourite family photographs, and put them on display for all to admire. With Abstract House, you can choose for your photographs to be printed and framed too, so all that's left is to sit back, relax and enjoy your guests and evening.
8. Choose Colours That Spark Energy
Image Credit: Mid Century Abstract Framed Canvas by Abstract House
Live life in colour this holiday with a beautiful, warm and colourful palette. 
9. It's All In The Detail
Image Credit: Abstract Blush River Tones Framed Set Of 2 by Abstract House
Blending a palette of cool blues with rich navy, blush and accents of gold creates a truly luxurious setting. How glorious does this premium framed art set look in this stylish living room?
Tip #1: Research the Holiday Trends for Ideas
The best way to come up with new ideas on how to decorate your space is to research the holiday trends online and see what is popular. That way, you can get inspiration from other homeowners and renters alike and discover decor styles you like. Google is a perfect place to start in addition to popular home decor websites like Livingetc, House Beautiful, along with social media spots and inspiration hubs including Pinterest, Houzz and Instagram.
Tip #2: Use Quality Handcrafted Home Decor Accessories
When you're decorating your home, choosing quality, sustainable products will make all the difference. At Abstract House, we are the UK's most-loved sustainable online art gallery, so you can be certain the quality of our products is unrivalled.
Choosing premium quality pieces means they will be a more sustainable option, as they will be built to last and enjoy for many Christmases to come.
Image Credit: Liberty Of London
 Image Credit: The White Company 
With these nine tips, you should be able to create a home filled with Christmas cheer that others will be sure to envy. We hope you enjoyed reading our curated list of the must-have ways to decorate your home this Christmas.